The key to life in L'Arche is being open to relationship. Assistants and core members (people with intellectual disabilities) create home and share their lives together in households of approximately six to eight people. Assistants support core members to live full and independent lives participating in their local communities, sharing their gifts and building relationships.
Days are filled with ordinary tasks of daily living: cooking, cleaning, laundry, shopping, accompanying people to appointments, attending regular community meetings, and events.
Assistants come from a broad range of backgrounds and qualifications. We usually ask for an initial commitment of one year. All new assistants participate in a program of orientation and training to enable them to support core members well.
Change your perspective on what you value and how you see the world?
Have an adventure in living and learning that just might change your life?
Be changed by your friendships with people with an intellectual disability?
Becoming a Live-in Assistant
L'Arche Antigonish welcomes assistants through an online application process in conjunction with L'Arche Canada. To learn more, click here.
If you are located in the Antigonish area, and would like to apply, please reach out to our Assistants Coordinator, via e-mail: [email protected]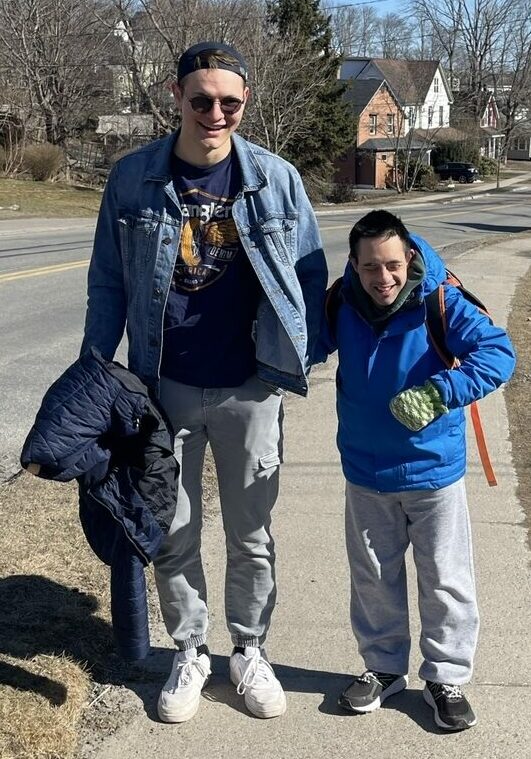 International Application Process
Please Note: we are only able to directly process applications and resumes from Canadian Citizens or Landed Immigrants. All international applicants, including persons who are presently in Canada on a visitor's visa, need to start the application process by visiting the L'Arche Canada Recruitment Website which will direct applicants to L'Arche Antigonish if there are present needs.
We continue to welcome many assistants from many different cultures. The application process for foreign applicants to come to Antigonish involves 4 steps which could take 4 – 6 months or more:
Indicate on the application whether you would want to come to Antigonish or you are open to going to any other community.
Wait to hear for confirmation from L'Arche Canada.
If your application is accepted for processing you will then be contacted by Antigonish or another community who has received your application. We will then go through our normal hiring process.